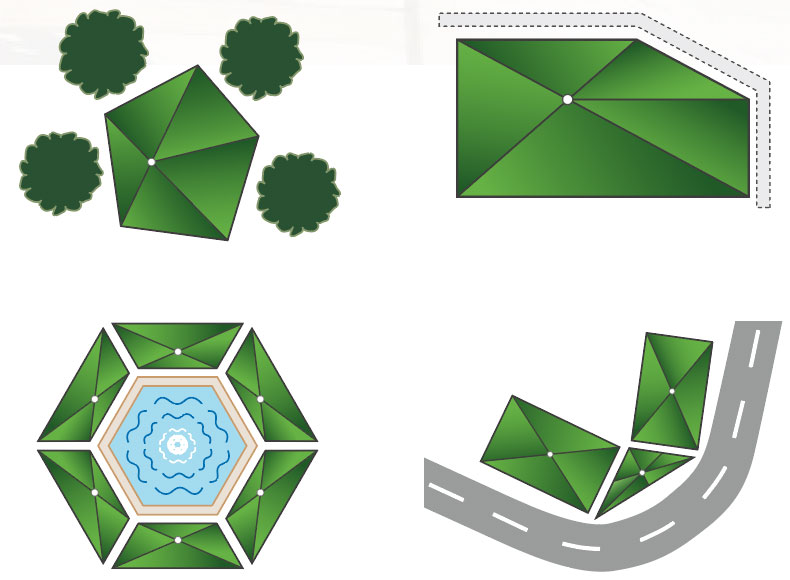 Acrylic awning fabric (standard)
The tried and tested acrylic awning fabric is manufactured from 100% spinning nozzle dyed brand acrylic fabric. That means that the colour pigments – unlike in classic yarn dyeing – are applied during the fibre production. This ensures reliable protection against damaging UV radiation and permanently guarantees brilliant colours / constant weather and light-fastness. Furthermore, the acrylic fabric is especially tear-resistant and also dirt and water-repellent thanks to its impregnation with a special protective agent. The reliable solution for long-term outdoor use.
Water-proof up to 300-370 mm water column, EN 20811
High colour and weather fastness (7-8) of 8
Water and dirt-repellent
100% acrylic 285–300 g/m²
Commercial printing possible on canopy and valance
Acrylic awning fabric LUMERA
The innovative Lumera acrylic fabric is woven with the special CBA fibre (Clean Brilliant Acrylic). Along with all the benefits of the acrylic fabric, this provides even more bonuses. The acrylic multifilament fibre has a smoother and denser surface. This means that the colours turn out richer and more radiant and the fabric's luminance is increased for a long time.
Water-proof up to 460 mm water column, EN 20811
High colour and weather fastness (7-8) of 8
Water and dirt-repellent
100% acrylic 290 g/m²
Commercial printing possible on canopy and valance
Swela Sunvas Uni
This 100% polyester fabric has an innovative and effective dirt and water-repellent SNC impregnation. This makes the fabric air-permeable, weather-proof and resistant to rooting. The fabric also has a high elasticity without permanent stretching. It is therefore optimally suited for outdoor use.
Water-proof up to 350 mm water column, EN 20811
High light and weather fastness (7-8) of 8
Chlorine fastness (4-5) of 5
Polyester mesh with SNC impregnation
Surface weight approx. 310 g/m²
Water and dirt-repellent
Excellent sun protection (UPF 50+)
Frame colours for masts and struts
You can find over 200 RAL colours here.
Elegance – Integrated strut light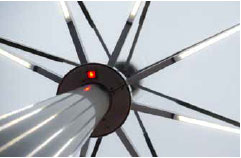 With the integrated Elegance LED strut light, you can make any patio shine. Designed to be elegant and unobtrusive, the modern LED strips provide pleasant light. The lights are easily switched on and off via the central switch on the mast or via remote control. The latter also allows you to dim the lights. Also available with coloured LED light strips.
Radiant heater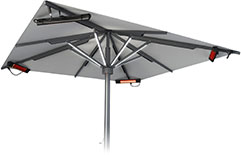 With integrated heating for Big Ben, you can provide comfortable temperatures even on cold days. All wires are securely concealed inside of the frame. The detachable radiant heaters are simply plugged into the connections at the strut ends.
Lights and heating can be switched on and off individually using the central switch at the top of the mast.
Parasol bases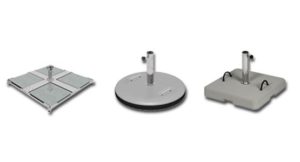 Here you will find a parasol base to suit every parasol. CARAVITA offers a wide range of models for all purposes in many different colours and shapes. Learn more…
Ground sleeves and pole fittings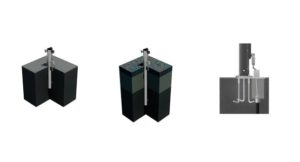 Ground sleeves are parasol bases to be set in concrete. Depending on the quality of the ground, ground sleeves are available in different lengths. The upper part of the ground sleeve can be removed. The part remaining in the ground is then at ground level. Learn more…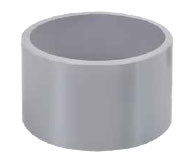 Only the best materials and extra strong aluminium profiles are used in the robust design of Big Ben. The solid mast has a diameter of 84 mm and a wall thickness of 5 mm, making it stronger than most others in its class.
Practical alignment guide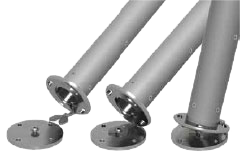 This guide greatly simplifies the erection of large parasols. Simply screw adjusting screws into ground sleeve or mobile base. Position the parasol. Thread the alignment guide into the screw and push the parasol up. Then simply screw in place and it's all done.
Wind-stable up to 100 km/h!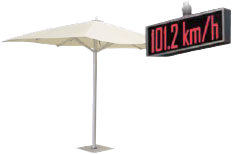 Its solid design makes Big Ben extra robust. To prove this, the professional parasol was tested by structural engineers in a wind tunnel, where the 3 x 3 m version can withstand even strong winds of up to 100 km/h!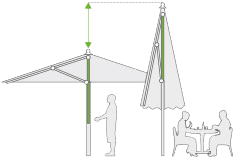 The advantage: the telescopic system extends the mast when closing! Tables and patio furniture can stay where they are.
References
Big Ben Freestyle is as versatile as you need it to be.

Château de Courcelles, France
4 x Big Ben parasol 4.5 x 6 m, 2x Big Ben parasol 3 x 6 m, 2x Big Ben Freestyle with integrated "Elegance" lighting. Frame RAL 6020 chrome green, fabric colour 5890 red.
Learn more...